JOIN OUR FRANCHISE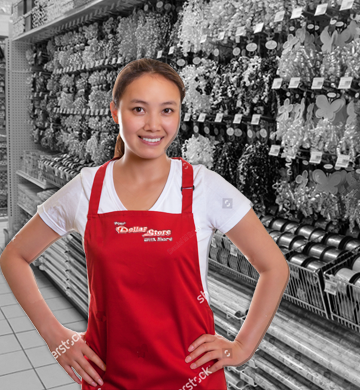 Your Dollar Store with More is continually seeking enthusiastic, motivated entrepreneurs with sound financial and business qualifications. If you have a passion for retail, a desire to learn and grow, and want to enjoy the benefits of working within an exceptional franchise system, then contact Your Dollar Store with More today!
We appreciate your interest in Your Dollar Store with More. Our franchising process requires that you start by filling out our pre-application form.
An Area Franchisor will review the information and contact you for an initial discussion.
For more information about operating a Your Dollar Store with More franchise, please read the most Frequently Asked Questions.  
Take the time to explore the website and learn more about this exciting franchise opportunity. Here is a short list of some of the unique differences that you will find with the Your Dollar Store with More franchise:
Individual care is given to every franchisee in finding the best location that fits their needs.
Key Points:
The franchise fee of $20,000, royalties of 4%, and the overall start-up costs, are among the lowest in the industry.
Assistance is available for site selection with landlords, which allows you to secure the best lease for your new store.
Store layout with professional merchandising.
Store opening assistance and training.
On-going support.
Twenty years of experience in the dollar store industry.
When you join the franchise you have access to all levels of Head Office staff.
Your Dollar Store with More is one of the only dollar store chain that operates a Local Marketing Plan.
To begin the process please complete and submit a pre-application form.
Copyright (C) 2021 Your Dollar Store with More Inc
Corporate Head Office 200 - 160 Dougall Road South, Kelowna BC Canada V1X 3J4